We are the best kept secret in South West Michigan,6 miles from Lake Michigan,located in Fennville,MI. Just min.from Saugatuck,Holland,South Haven and Allegan. 5 room,private baths,fire places,bubble tubs,lots of extra's. Specials running all the time www.jpaulesfenninn.com
Friday, December 20, 2013
Monday, December 16, 2013
Coming up in the Pub - NYE plusTeam Bingo starting in January!
We've found the perfect formula...free admission, a relaxing evening with friends and staff, great music, great food - and a memorable way to ring in the New Year. Come join us!
Plus, in addition to Team Trivia on Tuesdays...
Posted by

Paulette Clouse
at 8:16 AM
No comments:


Saturday, December 7, 2013
Snickerdoodles
1/2 cup Margarine (softened)
1/2 cup Shortening
1 1/2 cup Sugar
Cream Together.
2 Eggs (beaten)
Add to Creamed Mixture.
2 3/4 cup Flour
2 tsp. Cream of Tartar
1 tsp. Baking Soda
1/4 tsp. Salt
Mix Dry Ingredients in Small Bowl.
Then Add Dry Ingredients to Creamed Mixture.
Then Form Dough into Balls about the Size of a Walnut.
2 T Sugar
1 tsp. Cinnamon
Whisk Together in Small Bowl.
Roll Each Ball in Sugar Cinnamon Mixture.
Place Balls 2" apart on Cookie Sheet.
Bake at 375 degrees for 10-12 minutes.
Remove Cookies immediately from Pan to Cool.

Great Flavors in the Bakery!

Apple Spice & Pumpkin Donuts
Pumpkin Nut Raisin Bread
Cinnamon Rolls - Blueberry or Raspberry Muffins

Homemade Pies!!
3-Berry - Blueberry - Cherry - Apple - Dutch Apple
Great Holiday Gifts at Earl's !
Earl's Homemade Jam - Butters - Local Honey & Maple Syrup
5 Pepper Hot Sauce - Dressings - Sauces - Cider
Come Get These Great Deals While It Lasts!
Check Out The 1/2 OFF Table!
Ice Cream Buy 1 Get 1 FREE
Cones - Sundaes - Shakes - Malts
All Apples Buy 1 Bag Get 1 FREE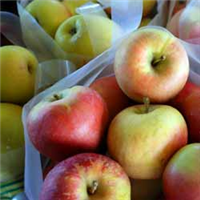 Posted by

Paulette Clouse
at 9:56 AM
No comments: