We are the best kept secret in South West Michigan,6 miles from Lake Michigan,located in Fennville,MI. Just min.from Saugatuck,Holland,South Haven and Allegan. 5 room,private baths,fire places,bubble tubs,lots of extra's. Specials running all the time www.jpaulesfenninn.com
Saturday, September 28, 2013
Monday, September 23, 2013
On Oct. 5-6th : Sat. - Sun from 10am to 6pm
They have been delighting and education the public with their annual Fall Tour of Studios for 24 years and loving it... it is free of charge and every one is invited to experience the creative process for their selves.
It is fun for the whole family. You can tour all the members studios during the Fall Tour and be treated to a complimentary refreshments and art-making demonstration ...you will also get a demonstrate Raku firing and throwing on the potter's wheel.
Posted by

Paulette Clouse
at 3:02 PM
No comments:


Wednesday, September 18, 2013
FOR IMMEDIATE RELEASE: September 12, 2013
CONTACT:
Dianna Stampfler –
269-330-4228
|
Dianna@PromoteMichigan.com
3rd Annual Arts & Eats Tour Offers Pure Michigan Autumn Experiences
(West Michigan) — Check out the magnificent fall colors during the 3rd Annual Arts & Eats – a Southwest Michigan back roads art, food and farm tour, October 19-20. This free, self-guided driving tour collectively features more than 55 artist studios, eateries serving locally-grown food and farms that feature the best in Michigan specialty farm products. These venues, some of which are not normally open to the public, welcome visitors from 10am to 5pm each day.
As a kick-off to the tour weekend, New Holland Brewing Company co-owner and Beervangelist Fred Bueltmann will share insights about the culture of beer, food and entertaining from his new book, Beervangelist's Guide to the Galaxy. The free program will take place on Thursday, October 18 from 7-8pm at the Old Mill Place, 717 E. Bridge Street in Plainwell (above the Old Mill Brewpub on the east end of town).
"Arts and Eats is becoming the go-to getaway mid-October weekend event for travelers and locals alike," says event co-founder Ginger Hentz and District 13 Coordinator - Michigan State University (MSU) Extension. "People travel with their friends, families take their kids to the farms to pet the animals and everyone has a good time learning about the area's rich agricultural and arts communities, which are economic drivers to our local economy. Plus it is hard to beat a drive down a quiet, rural road when the trees are decked out in their full autumn regalia."
Participants on the tour are encouraged to request an "Arts and Eats Passport" from any of the sites they visit. By collecting just six stamps, tour-goers can be entered to win one of dozens of great prizes donated by the artists, farmers and eateries. The more passports filled, the more chances to win.
ARTS: Visit galleries, studios and central venues to watch local painters, potters, photographers, sculptors and other artisans in action. Some farms – those that raise fiber-producing animals like alpacas and sheep – provide additional touring opportunities. Works are available for sale as well.
EATS: Explore farms where produce is grown, livestock is raised and artisanal foods are made. Then, stop by area farm/field-to-table restaurants to savor the bounty of the season. Participating restaurants feature special menu items using local products, with chefs using their creative culinary talents to pull together some fabulous menu items for the event.
In addition to the individual tour stops, four "Central Venues" are set up to house additional artist and serve as information stations for visitors. These locations include Gilmore Car Museum, Pierce Cedar Creek Institute, Hasting Fourth Annual Downtown Sculpture Exhibit and Bay Pointe Inn (Arts and Eats Headquarters).
The Interactive Public Art is a returning special event during the tour weekend. Aspiring artists and tour travelers can leave their mark on this year's event by helping fill up two large canvases through a joint artistic expression. Stop by to paint in Plainwell at the Fannie Pell Park on Saturday, October 19 or the Gilmore car Museum on Sunday, October 20 (10am to 3pm each day). Both completed works of art will be given to the tour, so everyone may enjoy them for years to come.
New this year is "A Taste of Arts and Eats Wine & Cheese Bus Tour" presented by the Thornapple Arts Council. Here, visitors can board a bus and tour select stops along the tour route, while enjoying wine from Glass Creek Winery and cheese from local producers. The bus leaves downtown Hastings on Saturday at noon, returning at 6pm. The cost is $25 per person; space is limited and reservations are required. For more information on this tour option, or to reserve a seat, call
269-945-2002
.
Planning partners: Allegan County Tourist Council, Barry County Tourism Council, Gilmore Car Museum, Hastings Public Library, Michigan State University (MSU) Extension, Pierce Cedar Creek Institute, Promote Michigan, Thornapple Arts Council and Wayland Downtown.
2013 Sponsors: Barry Community Foundation, Downtown Hastings, Gun Lake Casino, Hastings Mutual Insurance Company, J-Ad Graphics, Michigan Rural Council, Michigan State University (MSU) Extension, Potawatomi Resource Conservation & Development Council, West Michigan Tourist Association and Wind Walker Ranch.
Posted by

Paulette Clouse
at 9:21 AM
No comments:


Crane Orchards News - It's Honeycrisp Time!

Hello, Everyone,




We know many of you have been waiting to hear and the time is finally upon us.





We will open for Honeycrisp Apples U-pick this Thursday, September 19th at 10 AM. We have a very nice and very large crop for you this year and, as our subscribers, we wanted you to personally let you know.



We'll have other apple varieties available then too, of course - check the fruit page on our www.craneorchards.com website for the latest information on those.



As for other activities here at Crane Orchards, the Corn Maze is now open daily from 10 until 6 (and from noon until 6 on Saturdays & Sundays). And our Hayrides & Cow Train rides will open on the weekends beginning on Saturday, September 28th and hours are noon til 5 Saturday and Sunday for those.





We look forward to seeing you all soon - And thanks for being our customers!

Rob and Maria Crane

- Crane Orchards



Posted by

Paulette Clouse
at 8:42 AM
No comments:


Fresh Picked Locally Grown Apples!
Varieties Available: Honey Crisp
Gala - Golden Supreme - Blondee
Coming later in the week- Jonathan - Empire- Fugi
Fresh Pressed Apple Cider!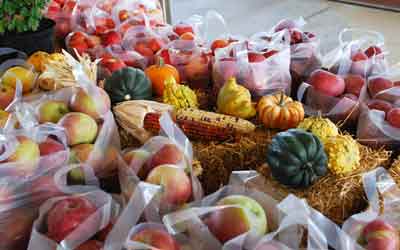 Fall Decorations!
Beautiful Mums - Pumpkins - Gourds - Bales of Straw
Open 7 Days a Week
Fall Hours: 8am - 7pm
---
Red Raspberries are ripe and ready for U-Picking!


Fresh Picked Sweet Corn and other local Veggies!




Large Selection of Hard Squash!





Frozen Blueberries - Raspberries - Blackberries and Tart Pitted Cherries available!




Homemade Frozen Pies - Apple & Cherry Crisps and Pie Crusts
Start your holiday shopping with Earl's Homemade Jam & 5 Pepper Hot Sauce!
Ciders - Salsa - Dressing - Chow Chow - Pickled Asparagus
---
Fresh Baked Breads Daily!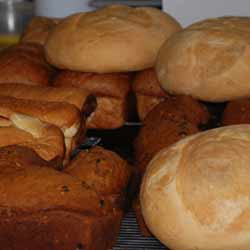 Fresh Donuts Everyday!
Blueberry - Apple Crisp - Pumpkin
Cinnamon Rolls - Muffins - Cookies - Homemade Pies

Enjoy a slice of Pie or Warm Apple Crisp with a scoop of Ice Cream.
Sugar Free Desserts always available too!


---
Apple Cake
1/2 cup + 2 T Margarine (softened)
1 3/4 cup Sugar

2 Eggs
2 tsp Vanilla

Cream together in large bowl.


2 cups Flour
1 tsp Salt
2 tsp Baking Soda
2 tsp Cinnamon

Mix together then add to creamed mixture.


3 cups Michigan Jonathan or Empire Apples (peeled, cored and chopped)
1 cup Walnuts (chopped)
Stir Apples and Nuts into creamed mixture.

Pour mixture in to sprayed 9x13 pan.
Bake 325 degrees for 45 minutes or until toothpick test comes out clean.
Sift Powdered Sugar over cake as it cools.
Fall Hours until October 20
Open Everyday 8am - 7pm


Starting October 25 - Dec. 22
Open Friday - Saturday - Sunday
10am - 6pm
Order your Holiday Pies & Cakes for pickup!
Thanksgiving and Christmas hours posted later.
Starting Thanksgiving Weekend!
Fresh Cut Christmas Trees & Wreaths!
Posted by

Paulette Clouse
at 8:27 AM
No comments: